Learning from the History of the Future

Looking back from the future (regnose) is a well tried technique to think about outcomes and many writers and thinkers have experimented with this using different methods and with varying measures of success over the years. Here are just a few of the examples from some of the more colourful characters from my book, A Brief History of the Future (also in German, as Die Visionäre).
Continue reading: Learning from the History of the Future
From Co-rona Living to Co-Living
Co-Living as antidote to Co-rona Living
Once upon a time there were three grandmothers. Doreen, Dotty and Carol (you couldn't make it up if you tried). They all lived happily in their own flats until one day they were told they had to self-isolate. All in their 70s and friends for at least 40 years, they decided it would be much more fun to isolate together. First of all they agreed to wait out a week alone to check they did not have the virus, then they moved in together.
Continue reading: From Co-rona Living to Co-Living
The Post-Corona Hygge
Why home is the neglected aunt...
Hygge, the latest sofa style, colour of the year, new cushion collections. There is something about these home trends that suddenly feels almost decadent, indecent. You might say they were always just "first world solutions to first world problems".
Yet how we form, celebrate or even decorate and furnish our homes is suddenly paradoxically more important than ever. We need home to remember who we are, and what is important.
Continue reading: The Post-Corona hygge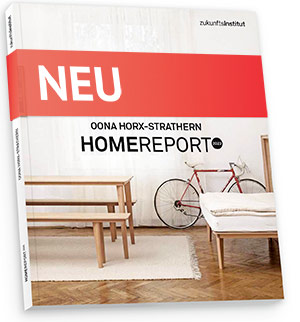 In Home Report 2020 future building and and living expert Oona Horx-Strathern takes a critical look at the trends and changes in our living spaces and their effects on the economy, the building industry and society.
It identifies the most important living and design trends, identifies the biggest challenges and sustainable strategies in the housing sector, exposes the true challenges of smart home systems and introduces inspiring architects, planners and designers whose innovative ideas and future-oriented thinking will create better homes for the future.
The study is currently only available in German: Home Report 2020
Also available (in German): Home Report 2019
For more information in English please contact us through www.strathern.eu/contact/