THE KINDNESS ECONOMY
THE KINDNESS ECONOMY IS A POWERFUL NEW FORCE FOR CHANGE IN BUSINESS and a growing trend that will improve everything from how we work to how we live in our homes, communities, and cities. In an age of much unkindness, burnout, and some notoriously monstrous management, we need a new, positive vision for the future. In this book I present an optimistic look at how we can create a healthy economy in which we are kinder to people and the planet while still making a profit. Through examples and anecdotes as well as personal and professional insights, The Kindness Economy explores how we can combine values with value and think differently about how we want to spend, work, and live.
In bookstores from September 26, 2023 – also available as an audio book and in German at the same time!
PRE-order available soon.
A Brief History of the Future
How visionary thinkers changed the world and tomorrow's trends are 'made' and marketed
'A Brief History of the Future is wise and witty with great stories about the characters who would see the future and their sometimes outrageous ideas. Best of all, it illuminates the past of the future.'
John Naisbitt, Megatrends
From Delphi's virgin visionaries, to science fiction writers, pop futurists, trend gurus and evolutionary experts – this book takes a look at the most interesting and influential figures and what their predictions have done for us. The brilliant, beautiful and sometimes terrifying ideas of visionary thinkers such as Leonardo, Darwin, Orwell and Dawkins have played a key part in influencing our minds, politics and civilization to date.
Today, futurism is all around us – in institutes of higher education around the world futures studies are a hot subject. Governments of nations as small as Liechtenstein have shiny new futures departments, while think-tanks and consultants wield huge influence. Entrepreneurs and politicians are trying to buy a hold on the future – and the question is, do we make the future, or does the future make us? This unique and fascinating book looks behind the scenes at how tomorrow's trends are being identified, 'made' and marketed today.
Carroll & Graf Publishers, 320 pages, paperback, EUR 13,90.- (March 2007)
You can order signed copies of the book here: thomas.alexander@horx.com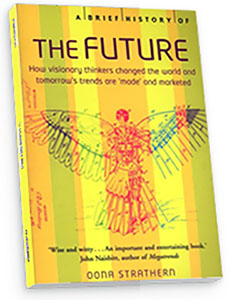 The Evolution of the Home of tomorrow:
From Bauhaus to the Future House
What does modern architecture tell us about how we live? Is our home like a badly fitting suit – or is it an adaptable system that evolves as we do. The evolution of the contemporary home is the story of social and cultural change, but also of the power of architecture and design over our lives. This is a book for anyone who is searching for a sense of home, who is trying to plan, renovate or build one, or who dreams of doing so. It offers hope, ideas, warnings, advice and some predictions about how we think we will, should or could live in the foreseeable future.
You can order directly from the author, please send an email to: Michaela Németh.
The Kindle edition is available at: www.amazon.co.uk